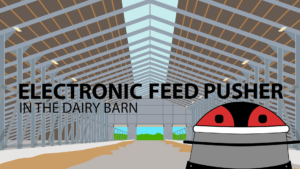 I will never forget the first time I saw Back to the Future Part 2. The creators of that movie made a semi-utopian future that seemed like a genuinely fun place to be. Sadly, as the future arrived, the reality of hover technology and holograms proved impractical and secondary in the face of gadgets such as smart phones. Yet there is one thing that movie got correct and we get to see it every day in places we might not expect: automation.
When I arrived at Bar Lee Jerseys, a dairy farm run by Jason Nuhfer and his family, I had many different subject matters in mind to "capture" with the goal of telling his story. The goal was to understand how he used technology to efficiently manage his family farm that included roughly 130 dairy cows, which makes it a smaller-than-average-size dairy farm in Ohio. Having years of experience going to dairy farms of all sizes, I felt I knew what to expect. After a quick on-site meeting with our clients from Inspire PR, and American Dairy Association Mideast, we chose the best location for an on-camera interview and begin setting up.
We often have to r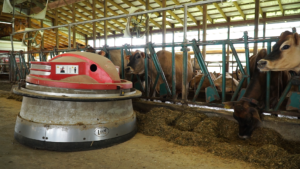 oll with the unexpected when filming on location, but what was truly unexpected was a seeing a robot making its laps in the barn. Seeing this little round machine go up and down the aisles of the barn to push the feed up to the cows was like watching something from a movie. While this wasn't exactly Marty McFly getting a menu read to him by computerized Michael Jackson or having an electronic Ronald Reagan serve him a "Pepsi Perfect," it was fascinating in its own right. It was a little glimpse of the future I had always expected.
The crew affectionately gave the robot the nickname "Roomba" after the robotic household vacuum (it's actually called a Lely Juno) and after the interview I couldn't help but ask our crew to get some footage of it just in case.  As we returned to the studio to piece together stories of modern dairy farming for American Dairy Association-Mideast, we crafted a short video on robotic milking – which is exactly how it sounds, a robot that milks a cow – and included footage of Roomba. However, it just didn't fit. With some insights from our dairy client, Inspire PR, and a partner from Ratchet Strategy and Communication, we set out to make the feed pusher story a little more fun-loving.
This sort of collaboration is normal and refreshing from a group I truly enjoy working with. I contrast that with the feed pusher – which is a one-robot operation fulfilling an important job. It performs every hour and the cows respond in kind by eating the feed it pushes. Along with the robotic milker, it gives Jason and his family freedom to attend to other aspects of caring for their cows and running their farm.
As Roomba did its job and cows got milked by a fellow robot, it afforded Jason the time to talk with us about how technology is helping the family farm stay in the family. Technology is at the core of what I do, and I see its benefits in places where I didn't think automation had a place. Sure, it might not be the stuff of a crazy old scientist crashing through time in a DeLorean, but I have to admit it was fun to see a bit of my Jetsons-inspired childhood playing out in rural America.
See the final video for Electronic Feed Pusher: