Every project is unique, but sometimes we categorize video shoots into a couple of different types, "Run'n'Gun" and "Planned-out."
Run'n'Gun
Run'n'Gun is slang for a video shoot that is expected to acquire a lot of material in a short amount of time without elaborate setups. This can result from a budget requirement or a limited availability of shoot subjects and locations. Often this type of shoot will take place in several locations over the course of a day or days, requiring the crew to set up, shoot and tear down multiple times in short order.  Run'n'Gun shooting is most often employed at an event like a trade show or a sports match.
One thing that may be sacrificed in Run'n'Gun shoots is the fine tuning that takes a video to the next level, such as employing cinematic lighting for each subject or arranging items in the background to compliment the subject or recording sound in a quiet location. This doesn't mean Run'n'Gun shoots can't be well-planned. They simply call for efficient, decisive execution while maintaining quality as much as possible.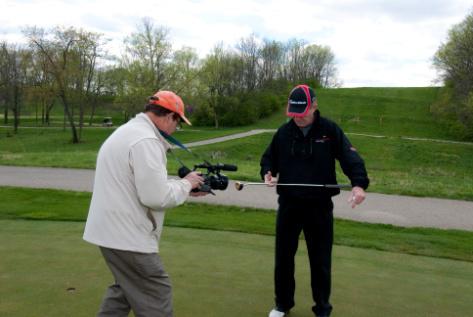 Single camera crew making use of available lighting.
Planned-Out
Planned-out shoots usually allot more time, equipment and crew for each setup, whether it's capturing an interview or a staged shot where a subject is asked to perform a task on cue. The additional time gives the crew the advantage of fine—tuning each setup as needed by addressing details that would otherwise get overlooked in a Run'n'Gun shoot. 
Most often, a planned-out shoot has a higher budget because it covers more time for the equipment and crew to capture less material over the course of the shoot than that of a Run'n'Gun shoot. However, the client can expect to have much more control over the visuals and audio being recorded.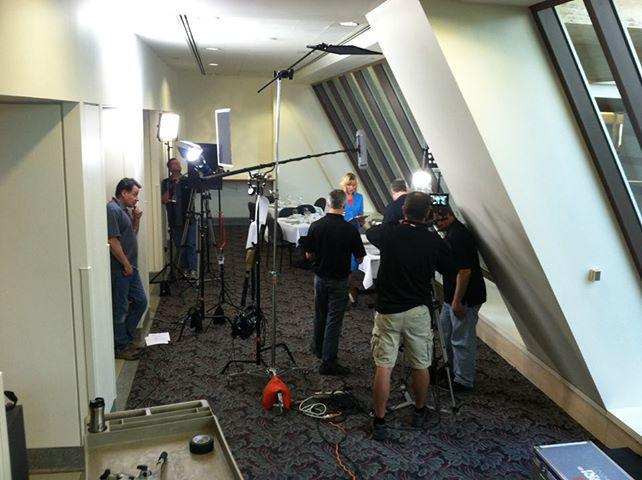 2-Camera shoot with several crew members capturing scripted talent performing their lines in a "set" environment.
Both types of shoots have their strengths, but it's the experienced and dedicated crew that finds a way to make either method work to the satisfaction of the client every time.